COOKGIRl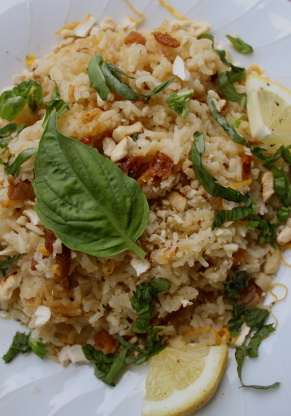 This rice dish is made lively with dried apricots, fresh ginger root, onion, garlic, coriander and basil. Make a meal out of this or serve as a side.

This was perfect with simple roasted chicken. We couldn't decide if the dish were more
East Indian, Thai-influenced, Middle Eastern. They we finally settled on a happy combination of all three. First I rinsed the rice under cold water in a sieve for 1 minute (plain white long grain rice but I think you could very easily sub jasmine or basmati depending on your menu). Finely minced the onion and garlic in a food processor and lightly sauteed with the rice. Added the wine (locally vintered) for another minute until absorbed and added only half of the zest, lightly crushed coriander seeds, unsulphured Turkish apricots. Used vegetable broth and garnished with the zest, fresh basil and roasted cashews. Loved it! We especially liked the ginger because it didn't overpower the other flavors as it can if overused. Prepared for Veg Tag/May and definitely going into my Best of 2012 cookbook! Thanks!
In a hot heavy bottom pan heat butter and oil
Saute onion, garlic and ginger till translucent add coriander seeds, basil, rice and apricots stir to coat with onion mixture adding wine and cook till wine is absorbed
Add zest and water simmering covered over low heat for 20-25 minutes
Fluff with fork and season with salt and pepper
Top with cashews and garnish with fresh basil