Cook4_6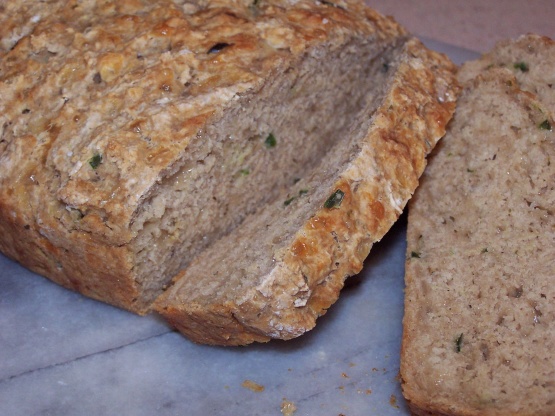 Served at The Grit, a famous vegetarian restaurant in Athens, Georgia. They use Blue Moon White Ale because it's hearty but also tangy.

Very good recipe. I conbined 1 1/4 C. AP and 1 1/4 C. Whole Wheat for the flour. Then I used Kona Pipeline Porter for the brewski. I also used an additional 1/4 t. of fresh Rosemary (only cause I love the flavor). Brushed the top with unsalted butter the last 10 minutes. Cheddar disappears and serves only as a binder. Awesome flavor though! Next experiment will substitute a Adobe Chipotle instead of the Jalapeno....stay tuned!
Preheat oven to 375 degrees.
Grease a 9 x 13-inch pan or glass baking dish.
Sift together the first 8 (dry) ingredients in a large mixing bowl. Add the remaining ingredients and stir just until fully combined. Spread batter evenly into baking pan or dish. Bake for approximately 35 minutes or until a clean knife or toothpick inserted into center of bread comes out clean.
Cool in pan for at least 15 minutes, cut, and serve with butter, if desired.