MsSally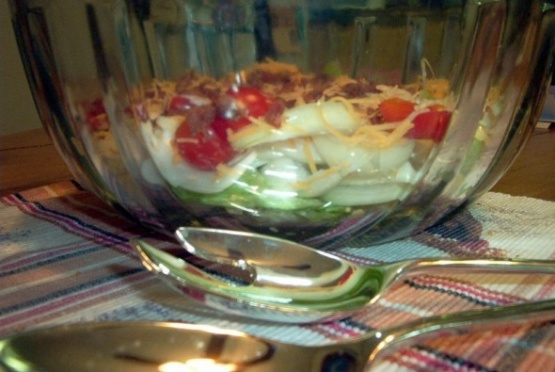 I received this recipe after having it at a 4th of July party. Hence the name for this different 7 layer salad. This is a great tasting and looking salad. When I make this salad for just us, I keep all ingredients separate, then I don't have soggy lettuce the next time I eat the salad.

This was good and easy to make. I got mixed reactions on the dressing though. Some liked it and others didn't. I followed the recipe as written other then I didn't add purple onions as my kids wouldn't eat them. I also used Splenda instead of sugar as that is all I buy. I used hormel bacon bits instead of cooking my own bacon.
In a large bowl, glass one if you have it, begin to layer ingredients as follows:.
Layer 1 - Lettuce.
Layer 2 - Celery.
Layer 3 - Purple Onion.
Layer 4 - Combine sour cream and sugar and pour over salad.
Layer 5 - Combine mayonnaise and vinegar and pour on top.
Layer 6 - Sprinkle parmesan cheese.
Layer 7 - Sprinkle bacon.