lazyme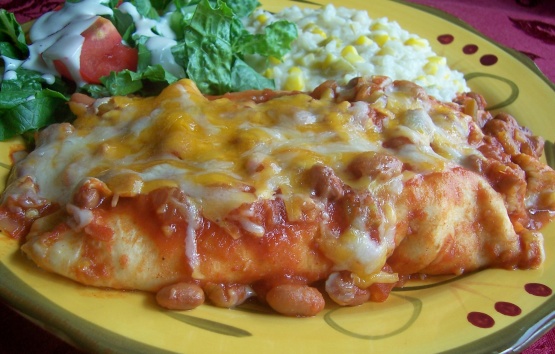 Here's a simple enchilada recipe that doesn't use a tomato based or standard enchilada sauce. It's quick to throw together and can easily be adjusted for smaller portions.
Must be the odd one out, but we didn't care for these too much. Sorry! Made as is except halved the recipe.
Preheat oven to 350ºF.
Lightly grease a 9x13 inch baking dish.
In a medium bowl, mix chile peppers and cream cheese.
Stir in chopped turkey.
Place the tortillas in a microwave oven.
Heat for 1 minute, or until the tortillas are softened.
Spread about 2 heaping tablespoons of the chile pepper mixture on each tortilla, and roll up.
Place the rolled tortillas, seam-side down, in single layer in the prepared baking dish.
In a medium bowl, combine the salsa and beans.
Spoon the mixture over the enchiladas.
Sprinkle the top with cheese.
Bake 20 minutes or til bubbly and lightly browned.