Four Layer Marshmallow Bars
Deb G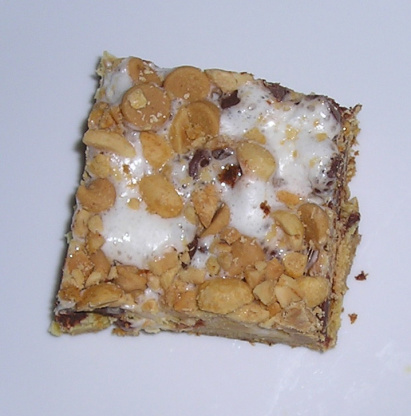 I took a recipe off of a bag of Kraft Marshmallows and revised it to work with the ingredients I had on hand. This is the results. I would recommend cutting it into small squares. It is very rich and a little goes a long way!!!
Preheat oven to 375°F.
Mix the cake mix, butter and egg until well blended; it will be a stiff, dough like consistency.
Press onto bottom of a lightly greased 13x9 baking dish.
Bake for 15-20 minutes, or until toothpick inserted in center comes out clean.
Sprinkle marshmallows on top of crust.
Mix peanut butter and chocolate chips and sprinkle on top of marshmallows.
Sprinkle nuts on top of chips.
Place back into the oven and bake and additional 2-3 minutes, or until marshmallows begin to puff.
Cool completely and cut into small squares.