Four Cheese White Broccoli Pizza (Easy)
Prep 10 mins
Cook 12 mins

A fabulous white pizza... again, four cheeses are used (grated parmesan, provolone, ricotta, & mozzarella) as well as fresh broccoli florets. You could substitute with spinach if you like, but we LOVE this recipe as is... I buy the pre-made pizza dough from my grocery store to save time, but you could always make your own of course. Also, I use MILD provolone - it's pre-packaged & pre-sliced think it is Belgioioso brand. Note: I use the 12 oz. bag of "Broccoli Wokly" which is already cut into florets - I steam it according to the package directions first in the bag & use the full bag on the pizza.
Directions
Preheat oven to 425 degrees.
Roll out dough. Coat pizza pan with the olive oil and spread out rolled dough evenly to all edges of pan. Sprinkle with grated parmesan cheese. Top with sliced provolone then place broccoli florets (already steamed per broccoli wokly package directions) on top of provolone. Using two teaspoons, spoon about 3/4 teaspoonful size spoonfuls of ricotta sporadically around the broccoli areas in empty spots. Season whole pizza with salt, oregano & garlic powder to taste then sprinkle the shredded mozzarella evenly all over pizza.
Bake for 12-18 minutes or until crust just golden brown. Slice & serve.
Most Helpful
This was so easy and delicious! Perfect for a week night dinner. I made some changes because of what I had or didn't have in hand. No pizza dough, but I had 10" burritos! I used asiago cheese instead of provolone. I also cut up a chicken cutlet that was left over from the night before and added that. The result was a huge hit! Thank you for a great recipe!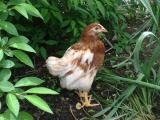 Been enjoying this recipe for at least 3 years, now; can't believe I forgot to include our rating, review & THANKS for sharing!
Delicious! What I did differently was, I brushed the dough with garlic olive oil before adding any of the toppings. Added nice flavor. I used sharp provolone rather than mild, and only 6 ounces of it (one Belgioso pre-sliced provolone pack). I mixed 1/2 tsp garlic powder and 1/2 tsp oregano into the ricotta, and spread that around the best I could over the provolone slices. I went a little lighter on the broccoli (probably about 6 ounces) and a little heavier on the mozzarella. Then I added a little more oregano. No salt... it doesn't need it. Next time I'm going to grate some asiago and put on some of that in addition to the mozzarella. I will definitely be making this again!