Bergy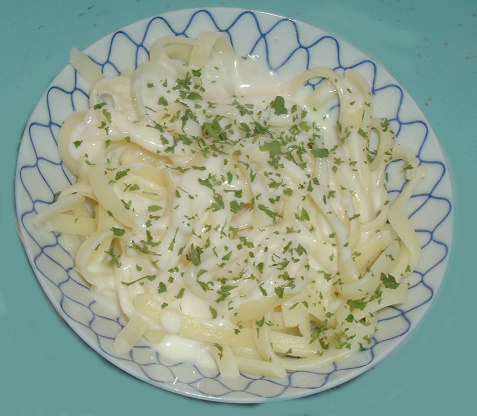 Another Good Housekeeping recipe. I usually add a little more half and half, butter, and flour to make a creamier sauce. My daughter calls this "Cheesy Noodles" - one of her faves. Good with a veggie or salad on the side.

I was looking for something to do with ham last night and found this recipe. So I made this and chopped up some ham to put in it to make it a main dish. Very filling very much comfort food and very easy. Oh and since it's the only kind I buy I used fat free half and half in it. It was still creamy tasting.
In 3 quart saucepan, melt butter,stir in flour until blended; cook 30 seconds.
Gradually stir in half and half- cook,stirring,until mixture boils and slightly thickens.
Stir in all cheeses,salt and pepper.
Boil fettuccine till al dente.
Drain and pour into large bowl or round casserole dish.
Mix in cheese sauce along with parsley, until well blended.
Serve immediately.