Four-Cheese Macaroni With Curry Crunch
lazyme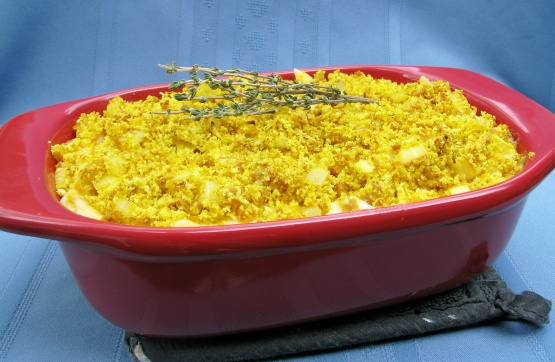 A touch of spicy curry flavour is a surprisingly terrific match for cheesy pasta. Do try the four cheeses below (though you can also use up bits of cheese lingering in your refrigerator). In either case, be sure to use the goat cheese for luscious creaminess. For variety, stir in sliced mushrooms or chopped broccoli. Stolen with love from Marilyn Bentz-Crowley at Food and Drink Magazine.

Loved this macaroni and cheese recipe. It was a bit of work, but well worth the effort in the end. Followed the directions and ingredients as posted with the exception that I used a combo package of shredded mozzarella and smoked provolone instead of just all provolone because I was feeling lazy and didn't want to have to shred more cheese myself on my hand grater than I had to. I used gouda (vs the friulano), fresh thyme from the garden, and penne (vs macaroni). Like the other reviewer, I am not usually a fan of breadcrumb toppings, but I loved the breadcrumbs on this and the flavor from the curry. I will definitely make this again. Thanks, Leslie! Made for Family Picks ZWT6.
Heat butter in a large frying pan over medium heat until bubbly. Add onion; cook 2 minutes. Stir in garlic and curry; cook 1 to 2 minutes, stirring frequently, or until fragrant. Remove from heat. Stir in bread crumbs; set aside.
Cook pasta in boiling salted water according to package directions for al dente. Drain, rinse under cold water and drain again. Set aside.
Preheat oven to 400°F (200°C).
Toss cheeses together with flour and salt. Set aside. Heat milk with thyme and bay leaf in a large saucepan over medium heat. When just starting to bubble, stir in cheese mixture by handfuls. Heat, stirring frequently, for 8 to 10 minutes until sauce is just starting to bubble and is thickened. Remove bay leaf and thyme stem; stir in black pepper and green onions. Stir in pasta until coated.
Turn mixture into a 4 qt baking dish which has been coated with cooking spray for easy cleanup. Smooth top and evenly sprinkle with curry crumbs.
Bake 20 to 25 minutes or until a knife inserted into the centre feels hot when removed. If crumbs are getting too brown, lay a piece of foil loosely overtop. Serve with sugar snap or snow peas and warm chapati or whole wheat pita. (Any remainder can be covered and refrigerated for up to 2 days. Reheat, loosely covered, in microwave on half power until hot.).