dojemi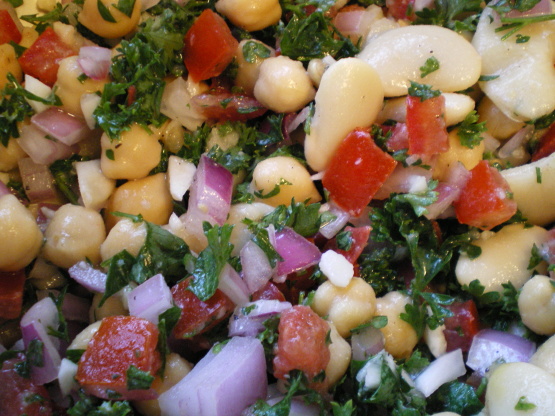 Try feeding your family some foul mud tonight! The name may be off-putting, but the taste is not. Foul Mudammas is a middle eastern recipe based on a dish available at Alfanoose, a gem of a restaurant in the financial district in Manhattan, where you'll find all the suits from Wall Street lined up for their weekday fix. This dish may or may not be authentic, but the guy who runs this place (and his wife who developed this recipe) are definitely Arabic. Serve as side dish or for lunch in a pita bread. I recommend using the roasted garlic - instructions for how to roast garlic can be found elsewhere on Recipezaar. Using raw garlic will give it more of a bite but won't make it as aromatic. Letting this soak overnight improves the flavor but that's optional.

3 3/4 stars. Lazy to make roast garlic so I just used less fresh & extra freshly squeezed lemon out of preference. I prefer a similar salad with just chickpeas rather than using fava beans, like other said they are bland. I used extra virgin olive oil and sea salt. I won't make this again.
Rinse and drain well fava beans and chick peas.
Chop tomatoes and drain (draining is not required, but will get rid of some extra liquid in the dressing).
Combine all ingredients and let marinate overnight in refrigerator, if desired. Serve chilled or at room temperature.