Nelka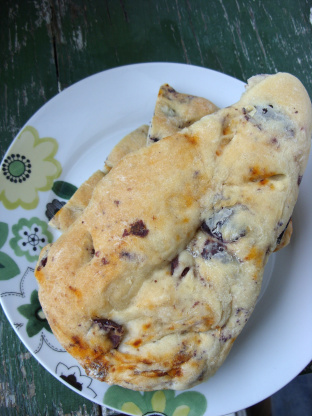 Adapted from a recipe in "Artisan Bread in 5 Minutes a Day." The recipe can easily be doubled.

Top Review by Nelka
I just loved this! It was so easy to make and came out absolutely delicious. Involves no extensive kneading. Will be making it again many many times. I cut the recipe in half as I only cook for one and added a chopped piece of sun dried tomato but I don't think it's necessary. LOVELY!
In a 3-qt (or larger) bowl, combine water, yeast, salt, sugar and olive oil. Stir in flour with a wooden spoon, or in a heavy-duty stand mixer with dough hook, just until all the flour is incorporated; do not knead. Let stand at room temperature 2 hours, or until it rises then collapses. (Dough may be used at this point, or refrigerated for up to 5 days.).
Place an empty broiler tray or baking pan in the oven and preheat oven to 400°F
Divide dough in half and work with one piece at a time. Form the dough into a ball, then flatten to about 1/2" thickness on a heavily-floured work surface. (This dough needs to be drier than most to hold the cut shapes, so keep that in mind when adding bench flour.) Sprinkle with half the olives, then roll up jelly-roll-fashion. Form into a ball, then into a flat oval. Slice angled slits into the dough, then gently pull them open. Transfer to a greased cookie sheet and brush with more olive oil. Let rest at room temperature for 20 minutes.
Place the cookie sheet on a rack in the middle of the oven. Pour 1 cup hot water into the empty broiler pan and quickly close the oven door. Bake 20-25 minutes, until puffy and golden brown (the crust will not get crackly hard because of the oil).
Repeat with remaining dough and remaining olives.