Forty-Clove Chickpeas & Broccoli
digifoo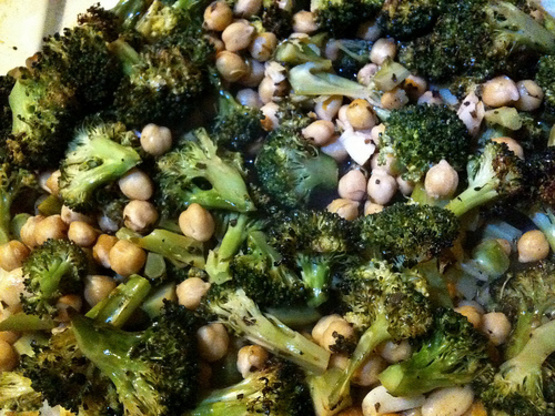 Well not exactly 40 but 10 and that's still alot!! This is a great meal to throw together, put it into the oven, and go do whatever until its ready. Very simple but amazingly tasty!! I recommend serving with Caulipots (Cauliflower Mashed Potatoes) which can be found in her book. This recipe comes from Isa Chandra Moskowitz's book Appetite for Reduction - 125+ fast & filling low-fat vegan recipes. Enjoy!

A garlicky dish for sure! Very enjoyable easy to prepare. I found that after the recommended cooking period, the garlic still wasn't cooked ... and by that point the broccoli was verging on being overdone - so I ended up covering it and letting it cook another 10 minutes or so. I may have taken the term 'smashed' too literally :), next time I'd chop it up more. The chickpea lover in the house thought they were fantastic, and I really liked the broccoli best. The broth was of course fantastic! I could have used more broth just to drizzle on top. I served with plain rice which was maybe too bland an accompaniment...a mash with this is a great idea (which is what I'm assuming Caulipots is!). Thanks Mindelicious, looks like I'm going to have to buy that book!
Preheat over to 400 deg F. Place the broccoli, garlic, and chickpeas in a 9 by 13 pan sprayed with nonstick cooking spray. Drizzle with oil and toss to coat. Sprinkle with salt, several pinches of pepper, and add the lemon zest & oregano. Toss again to coat and put into the oven. Bake for 30 minutes, flipping once.
Remove from oven and add the vegetable broth. Use a spatula to loosen any crisp bits from the bottom of the pan.
Return the pan to the oven for another 15 minutes or until the garlic is tender and broccoli is browned in some places. Enjoy!