Linajjac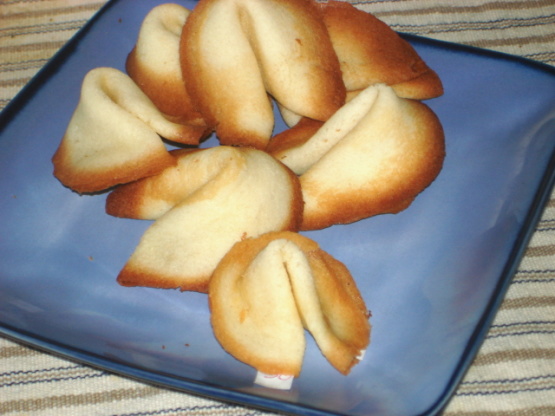 These are really fun to make for a party or informal get together. I made them for New Years' Eve this past year and wrote my own fortunes. The guests were totally impressed with them! They are a little tricky to work with--you have to be fast and shape them while they are still warm so they don't set. Recipe courtesy of Gale Gand's show "Sweet Dreams."

These were pretty fun to make.. But they do take time. The recipe says, bake 6 @ a time. I only made 2 @ a time. They get hard really fast, so you gotta be quick. The batter should be pretty thin (BUT not too thin either) or it will turn out "crep" like. I didn't do the stencil thing. I just spread it in a circle. You also wanna grease your cookie sheet good. Also, I added about 1 tsp of vanilla instead of 1/4 tsp.. The cookie sheet should be cooled, before adding the mixture each time. Better off using 2 cookie sheets.
Cut a stencil out of a plastic coffee can lid in the shape of a 3-inch disk.
Whip the egg whites until stiff and chill.
In a mixer, cream the butter, then add the sugar and continue mixing.
Add the flour and blend in, then add the vanilla and blend again.
Add the chilled egg whites and mix on low until well incorporated and the batter is smooth.
With a small offset spatula, spread batter through the stencil so it is a circle onto parchment paper, about 6 per cookie sheet.
B ake in a preheated 350-degree oven until light golden brown, 7 to 8 minutes.
Quickly remove the pan from the oven and one at time place a fortune across the center with a bit hanging out.
Fold cookie circle in thirds over fortune with flaps only slightly overlapping each other.
Turn over and bring opposing sides together and pinch.
Let cool.