Forevermama's Sautéed Carrots With Red Onions
ImPat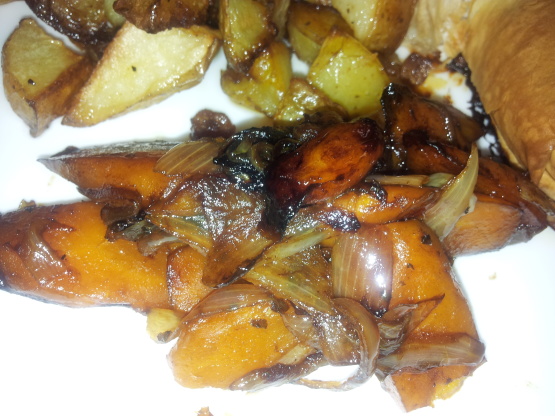 I've been making these carrots since I was a very young girl. They are delectable served as a side dish with any meal. It's my husband's favorite vegetable, and he's not a big fan of vegies. It is always on my Holiday table. It pares great with roasted turkey and a beef roast!

We enjoyed this dish very much -- loved the combo of the carrots and red onions. I did add a touch more brown sugar and I added a tiny bit of water as well. I also left out the basil. Definitely a keeper. Served with roasted chicken and steamed broccoli. Made for PRMR, June, 2014.
Melt butter over low heat in a medium saucepan. Add carrots, onions, brown sugar, salt and pepper to taste. Cover pan tightly and cook over low heat for 15 - 25 minutes. Add basil, cover pan tightly again and continue cooking until onions and carrots are fork tender.
Note that the carrots will secrete its own moisture, therefore adding liquid is not necessary. But if you're pan is not tightly sealed and the moisture escapes, add 1 tablespoon of water to replace the moisture lost. Enjoy!