Forevermama's Chicken or Turkey Cutlets With Balsamic Vinegar
BecR2400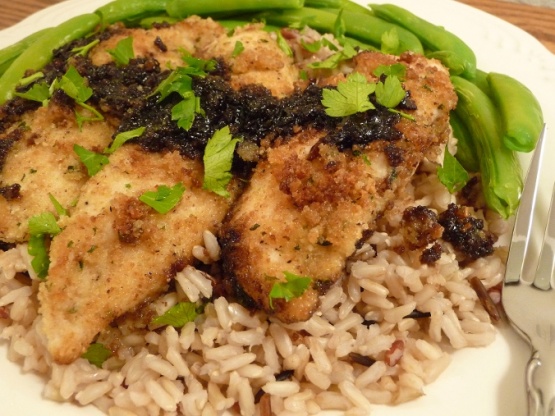 This is a quick and wonderful meal great for weeknights and to serve for company. It is a very flavorful dish that imparts an almost fruity taste due to the combination of the wines and balsamic vinegar. When I make it, it reminds me of my father-in-law because out of all the dishes I made, this was one of his favorites. Enjoy!

Excellent!! My only regret is not doubling the magnificent balsamic wine sauce! Made using chicken tenders which I fried about 2 minutes per side until golden. Also, I used only three garlic cloves which I thought was just right (but will double to six cloves when I double the sauce next time). Served with wild brown rice pilaf, fresh steamed sugar snap peas, and a sprinkling of fresh snipped parsley from my herb garden. So delicious!! Thank you, ForeverMama, for sharing this wonderful recipe that I will make again and again.
Rinse chicken or turkey breasts in a colander, let drain.
Mix vinegar and honey until honey dissolves. Set aside.
Season bread crumbs with salt and pepper. Dredge chicken or turkey breasts in the Italian seasoned bread crumbs, pressing well to make them adhere.
Heat a skillet over medium heat. Add 1 - 2 tablespoons olive oil until it is hot.
Saute the chicken cutlets for 1 minute per side (note that the cutlets won't be cooked all the way through, because they will cook later in recipe). Transfer them to a platter.
Add the remaining oil and garlic to the pan and cook just until garlic is golden (garlic burns easily, so be careful or it will impart a bitter taste).
Add the white wine and vermouth. Boil the mixture until sauce is reduced by half (more or less).
Add reserved honey and vinegar mixture and cook until syrupy. Taste for seasoning.
Place the cutlets back in the pan and simmer for 3 - 4 minutes more or until completely cooked. Garnish with parsley.
A Little Bit of a Tip: If you prefer extra sauce, just increase the sauce ingredients. This sauce is scrumptious over rice.