Forevermama's BEST Croutons EVER!
diner524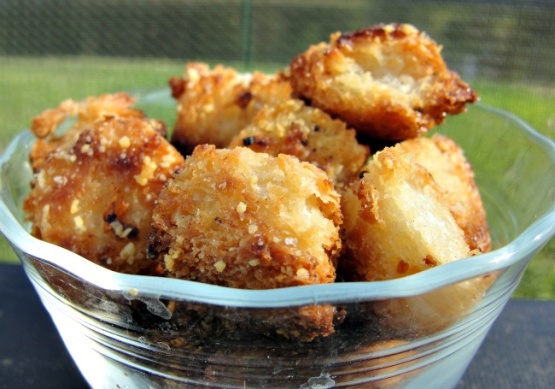 These croutons originally were part of a minestrone soup recipe. The soup was nothing to write home about and not a keeper but the croutons were to die for! I've doubled and quadrupled this recipe because my kids can eat these as if they were potato chips. It is truly scrumptious especially over a "good" soup or salad. This is a great way to use up stale bread.
The title says it all!!! I made these, using several slices of a homemade sourdough bread that I had made the day before making this recipe. I let the slices sit out for several hours, to dry them out more, then followed as written for 1/2 of the recipe, until the first flipping/turning in the fry pan. They weren't evenly browned in the fry pan, so I decided to put them in the oven (since it was already on and cooking the main entree) to get a more even browning, which worked like a charm. Next time, I would just mix up the bread and garlic, oil in a bowl, then sprinkle with some sea salt and parmesan cheese and bake and turn till well browned. But, anyway you do it, so yummy!!! Thanks for sharing another great recipe!! Made for Spring 2013 "Pick A Chef" event.
Heat olive oil in a large saute pan over medium-high heat,
Add the garlic and cook for 3 minutes, to flavor the oil, being careful not to burn the garlic. (garlic may be removed or left in, up to individual taste. But if left in be very careful not to burn garlic).
Add the bread cubes and toss to coat. Saute until golden brown on all sides and crisped up.
Season lightly with salt.
Sprinkle parmesan over hot croutons of desired.