mianbao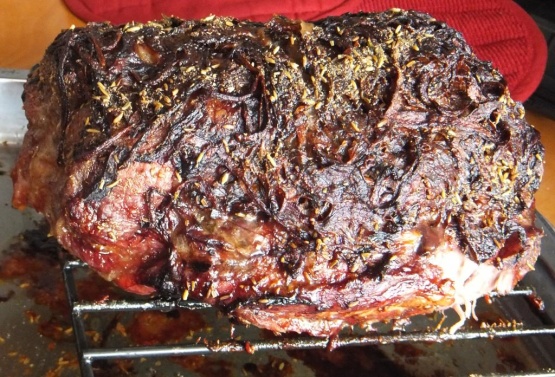 A Michael Chiarello recipe. Made this up yesterday because I was craving delicious, fall-apart tender pork and this really fit the bill. This is Fennel Spice Rub for Turkey (Michael Chiarello), which you need for this recipe and is easy to make and good for so many other dishes! This delicious roast requires long, slow cooking. I say it was worth the wait!

This turned out very tasty, although it was my first attempt at roasting such a large piece of meat (4 lb). I roasted the meat in my convection oven, on a rack over a shallow pan, at the temperature given. I thought the meat might cook more quickly in the convection oven, so when it started smelling done after 3 1/2 hours, I tried to take a piece with a fork, and it came loose! So, I removed it from the oven then, only to find that, although it was cooked through, it was not all cooked enough to shred. I decided to save the portions for later, and I'm sure they will be enjoyed. I also was wondering if I should have covered the meat. Thank you very much for posting this recipe. It was an experience.
Heat the olive oil in a large saute pan over medium heat until hot; add the onions and a pinch of salt and pepper; reduce the heat to medium-low and cook for about 1 minute; add the sage and cook until the onions cease throwing off water, about 3 minutes; add the water, cover, and cook until the onions are very tender, about 10 minutes; uncover and saute until the onions are very soft and the pan is dry again, about 2 minutes; season well with salt and pepper.
Preheat the oven to 275 degrees fahrenheit; peel back the pork skin and spread the onions directly on the fat layer; fold the skin back over the onions and tie closed with kitchen string (I didn't do this - just patted everything into place); season well all over with the fennel spice.
Arrange the meat on a rack in a roasting pan and cook until the meat is very tender, 6 to 8 hours; it is ready when it pulls away easily if picked at with a pair of tongs; it is often easiest to cook the meat overnight, or put it in the oven in the morning and let it cook all day; it does not need to be attended.