For Sausage Onion Pepper Mushroom Lovers Only
lazyme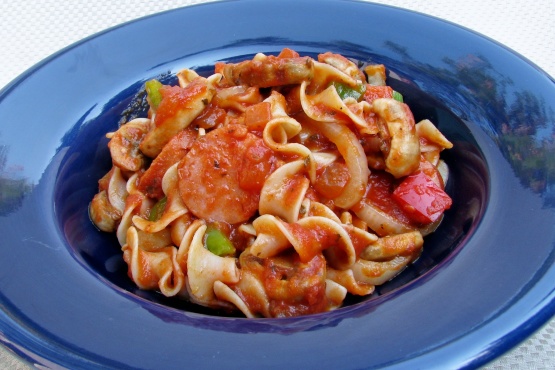 For us lovers of a mixture of sausage, onions, peppers and mushrooms you don't need a description, you can taste it by just closing you eyes and thinking about it. You know what you are going to enjoy one more time.
1

lb sausage, sliced (Holmes Smokehouse Original Pecan Smoked preferred)

1

onion, peeled and sliced

1

medium green bell pepper, seeded and chopped

1

medium red bell pepper, seeded and chopped

8

ounces fresh mushrooms, sliced

2

cups egg noodles, cooked in salt water

24

ounces pasta sauce (Barilla Sweet Pepper sauce preferred)
In a large pan, on high temperature, fry the sliced sausage for about two minutes, then add the next four ingredients.
Cook together until tender.
Add the sauce and cook together for two minutes.
Add the egg noodles; simmer for two minutes, serve.