For My Sweetie Cheesecake
2Bleu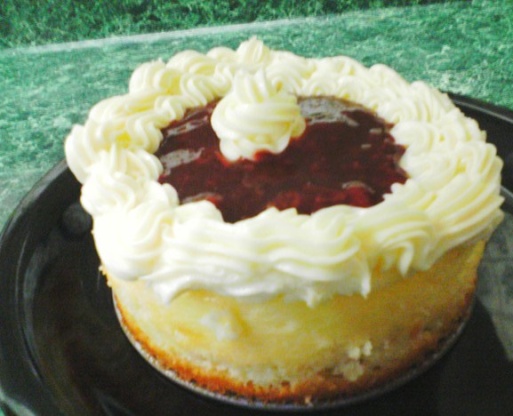 They say the way to a man's heart is through his stomach. Delicious blend of Key lime, white chocolate, and berries. Created for RSC #11.

I have to say that this is by far the best tasting cheesecake I have ever tasted! The crust was so delicious and the cheesecake had just enough lime flavor as to not overpower but add a nice zest. OMG that white chocolate mousse was to die for, and I will make that again for sure to go with other desserts! I also didn't strain the glaze so I had a bit too much to use for something later. WOW! This was a truly amazing dessert!! Thanks for posting!!
Crust: Heat oven to 350. Butter the bottom of a 9 inch springform pan. In medium bowl, combine flour and sugar. Cut butter in until coarse crumbs form.
In small bowl, combine egg yolk and Key lime juice. Add to flour mixture and blend until moist clumps form. Press dough into bottom of pan.
Bake in oven for 20-25 minutes or until set. The edges will be slightly browned.
Cheesecake: In large bowl, combine cream cheese and sugar until smooth. Add in cornstarch and combine. Add in eggs, one at a time, then combine in Key lime juice. Pour filling into crust.
Bake in oven for 45-50 minutes or until set. When done, turn off oven and crack door. Leave in oven for 30 minutes. Run knife around edge and take off springform. Cool completely before putting in fridge overnight.
Berry Topping: Smash 1 cup strawberries. Put in small pan along with jam, water, and cornstarch. Mix. Bring to boil, stirring constantly and boil 1 minute or so until thickened. Strain. Cool. Spoon in middle of cheesecake to within 1/4 to 1/2 inch of edge. Or if desired, arrange berries on cheesecake, cover with glaze.
White Chocolate Mousse: Melt chips with 1/4 cup cream in microwave at 70% power for about 1 minute. Stir. If not melted, continue in microwave at 70% power stirring every 20-30 seconds. Cool.
In medium bowl, beat 3/4 cup cream with pudding mix for about 2 minutes. Take one spoonful out into the white chocolate and combine. Add this into the pudding/cream mixture and fold over until combined. Decorate edges of cheesecake with the mousse.