Foolproof Southern Biscuits
teresas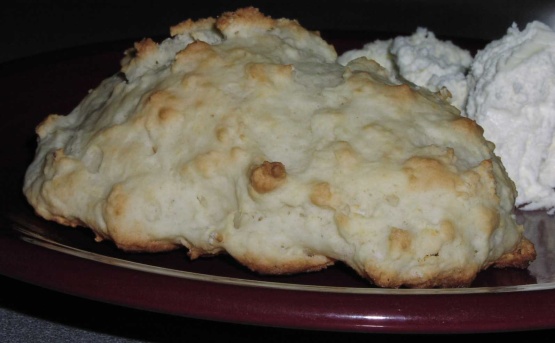 I know this recipe sounds strange, but give it a try! This recipe appeared in an editorial in the June, 2007 edition of "Our State: North Carolina" magazine. The editor compared the recipe for these biscuits to a "family secret handshake!"

10/1/2008 This didn't work for me. The dough was to runny. Maybe it needs more flour or less liquid. The hardest part of the recipe was finding the self-rising flour in the store. When cooked they became flat like a pancake. We did love the flavor. Think I may give it another shot using less liquid. I made sure to not over mix. 10/02/2008 I made these again tonight but used less liquid. I used 2/3 cup of milk and 2/3 cup of mayonnaise and they came out perfect. Nice and fluffy and TALL just like biscuits are suppose to be. These have a wonderful flavor. Thanks for posting. Made for PAC Fall 2008.
Mix the ingredients gently in a bowl with a wooden spoon.
Dollop dough onto a greased cookie sheet (you should get 12 biscuits out of this recipe).
Bake at 450 degrees F for 10-12 minutes, or until golden brown.