Foolproof Sourdough Starter
PaulaG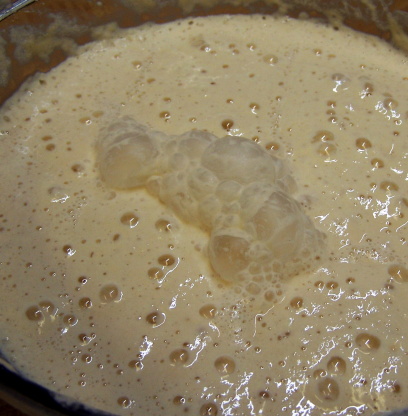 This was found at alaska.net and trust me works like a charm. Within 4 days I had the most active starter with a wonderful sour ordor. I made this starter on my counter top. After several feedings it continues to improve in flavor.

If you are having problems with this starter, then it is probably one of these things . . .<br/><br/>1. Not live yoghurt culture - MUST be live, plain yoghurt.<br/><br/>2. Bleached flour - the things used to bleach flour (bromine or iodine - both used to disinfect!) kill the bacteria.<br/><br/>3. Too cold? Keep that puppy warm.
Mix the milk and yogurt together in a glass or pottery container (Do not use metal).
Place lid on it, but don't seal it (sealed starters have been known to explode).
Put mixture in a warm place (80 to 90 degrees) for about 24 hours.
The yogurt and milk will separate forming a large curd, when adding the flour just stir it all back together.
Add the flour stir, and put back in warm place for 3 to 5 days; stirring daily.
It will bubble and have the odor of fermentation--it is ready to use.
Remember the starter is a living thing and needs to be fed and fed frequently when an infant.
I feed the "infant" weekly by placing it on the counter for several hours and allowing it to come to room temperature.
Then remove 1/2 cup starter, discarding the remainder.
Feed the 1/2 cup with equal amounts of milk (buttermilk will produce a stronger sour taste) and unbleached flour; i.e. 1 cup flour and 1 cup milk plus 1/2 cup of starter.
If you would like, you can feed the starter with 1/3 cup dry milk powder and 2/3 cup bottled water in place of the 1 cup milk.