Aeron J.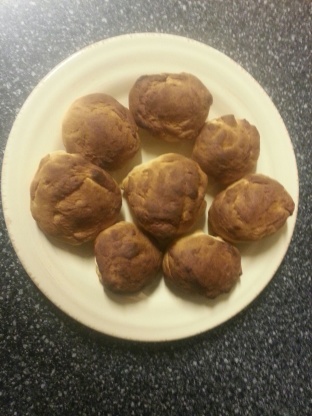 Very, very easy and fast!

This is a great recipe for a basic dinner roll...distinctive yeast flavor, and it really is foolproof...and trust me, I am a beginner using yeast, so I HAD TO HAVE foolproof. I chose this recipe for 3 reasons, first, the title, second, there was no egg in the recipe, and third, I had a packet of rapid rise yeast and I thought with only one rising that this had to be the type of recipe to use it for. I only added a couple of tablespoons extra flour, and it was basically on the top and bottom of the mixture to be able to knead it instead of stirring it in. I actually just formed a rectangle with my hands instead of rolling, and cut into 8 equal portions. I put them in a greased 8 inch cake pan, and baked them at 350 degrees for 20 minutes. They were a light brown (which is what we prefer) but completely done. And they rose BEAUTIFULLY. Thanks for posting a yeast roll recipe that even a beginner can make.
Preheat oven to 450 degrees.
In a large bowl, mix the flour, sugar, salt and oil, shortening or butter.
Dissolve the yeast in the water and add to flour mixture.
Knead slightly.
Roll out on lightly floured board to 3/4 inch thick.
Cut into rolls and place on greased baking sheet, cover and let stand for 30 minutes.
Bake in preheated 450 degree oven 20-25 minutes, until golden.