3 Reviews
I used the pressure cooker for this recipe, cooking the beans for 5 minutes with a natural release. Easy and quick to put together the only hassle was peeling all the beans. As is, the soup is very bland, but with a sprinkling of freshly ground pepper and seasoning salt, is very tasty. My bf loved this soup! Thanks for posting.

Loved the sound of this - such fabulous ingredients! - and it fully lived up to my expectations. A superb blend of flavours, and I followed Kumquat's suggestion of blending it with an immersion blender, always the easiest option! Thanks for sharing, Nana Lee!

Very thick and filling soup with a clean and simple taste. I love fava beans, and the seasonings were subtle but complementary. All I would recommend perhaps is some additional salt and pepper. We used canned beans, did not peel them and used a ricer to blend (easier than blender or food processor, or use an immersion blender if you have one). It worked out quite well. We only added a tablespoon of oil. Thanks Lee for an easy summer supper!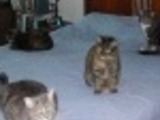 Fool Nabed - Fava Bean Soup (Egyptian)