Food Processor French Bread
NorthwestGal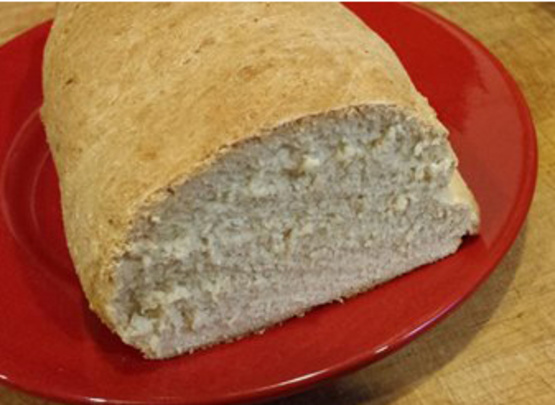 This is a very simple and quick French Bread. It has a finer texture and more of a chewy crust than what you get from the bakery. I found this in an Bon Appetite years and years ago. I sometimes make rolls rather than loaves. With this coming together so quickly you can easily make large batches; with two students helping to shape the rolls I've made 6 batches, start to finish in under two hours. Prep time doesn't include rising time.

This recipe has kind of blown my mind....I just can't believe how ridiculously simple this was to prepare and how little time and effort went into it...I'm amazed!!
A great recipe for those just venturing into the world of bread making!
Made for PRMR.
1⁄2 cup water, 110-115 degrees
1 1⁄2 tablespoons yeast

1

teaspoon sugar
3 1⁄2 cups flour
1 1⁄2 teaspoons salt

1

teaspoon sugar

1

cup water, 110-115 degrees
Grease baguette pans for two loaves or cookie sheet if making rolls.
Combine 1/2 cup cup water,1 1/2 Tbls yeast,1 teaspoon sugar;in food processor bowl, let sit 5 minutes to proof.
Add 3 1/4 cups flour, 1 1/2 tsp salt, 1 teaspoon sugar, process for 30 secs.
Slowly add 1 cup of water with the processor running, once dough comes together process mix for 1 minute.
Check dough, it will be slightly moist and sticky, add extra flour if needed and process for 30 seconds.
For loaves, divide dough in half and shape into 2- 11"-12" loaves( I usually hold it and squeeze gently starting in the middle and working towards the ends, letting it hang from my hands). Place on pan, and cut or snip 4 diagonal slashes into top of the loaf.
For rolls pinch off dough and form 24 balls place on cookie sheet. Snip a small slash into the top of each roll.
Set loaves or rolls in a warm spot to rise, rise for 40 - 60 minurtes for loaves, 30- 40 minutes for rolls, depending how warm your room is.
As soon as you set you bread to rise, Preheat oven to 450 degrees, after 20 minutes place a shallow pan of warm water on the lower rack of you oven.
Bake for 10 minutes, lower temperature to 400 degrees bake 15 minutes more, check rolls at 10 minutes.
With the oven I have now, I have to remove the loaves from the pan turn them over and bake for 5 minutes more to get the bottom crusty, you may have to also.