Food Processor Confetti Bread
mianbao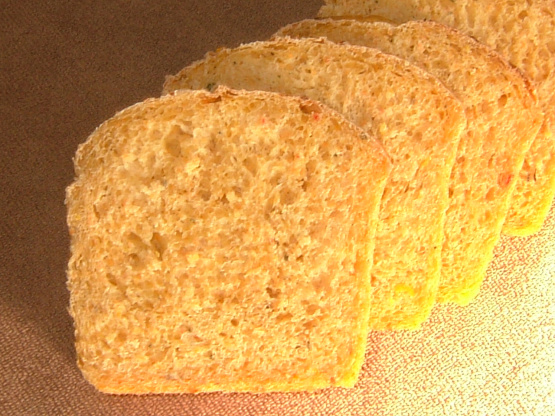 Posted in response to a request for a food processor yeast bread. There are several ways to make this wonderfully tasty bread! Freezes well

As with all of Donna's bread recipe this one is first rate in both looks, flavor and ease of making. The directions are so clear and thanks to your warning on not adding water to the dry looking first dough it came out perfect. As you stated as I needed it became more and more wet, even a little sticky. I didn't use the bread machine, instead made in my kitchen aid and mixed for about 5 minutes to incorporate some of the kneading. Then let rise before placing in a bread pan for a 2nd rise and then baking. This is one of those recipes that's on my repeat list.
In a measuring cup, dissolve 1 tsp.
sugar in warm water.
Sprinkle yeast over and let stand for 8 to 10 minutes, until foamy.
Stir to dissolve.
Grater: Grate vegetables, using medium pressure.
Transfer to measuring cup.
You need about 1 1/2 cups of vegetables.
Steel Blade: Place flour, oil, salt, remaining 1 tsp.
sugar, thyme and basil in processor.
Process 10 seconds, until combined.
Add dissolved yeast mixture through feed tube while machine is running.
Process until dough gathers together into a mass around the blades.
Let machine knead dough about 45 seconds longer.
If machine slows down because dough is too sticky, add a few tablespoons of flour through feed tube; if dough is too dry, add a few tablespoons of water.
Turn out onto a lightly floured surface.
Knead by hand for 1 to 2 minutes, until smooth and elastic, adding just enough flour to prevent dough from sticking to your hands.
Place dough in large greased bowl, turning to grease all surfaces.
Cover bowl with plastic wrap and let rise in warm place until doubled, about 1 1/2 hours.
Punch down.
If you have time, let rise a second time; punch down once again.
To shape: On a lightly floured surface, roll dough into 9 x 12-inch rectangle.
Roll up like a jelly-roll from the shorter side.
Seal ends by pressing down with edge of your hand.
Place seam-side down in sprayed 9 x 5-inch loaf pan.
Cover and let rise until doubled, about 1 hour.
Bake in a preheated 425 F oven for 25 to 30 minutes, until golden brown.
Bread should sound hollow when tapped with your fingertips.
Remove from pan and let cool.