Food for the Gods (Walnut and Date Bar)
josehon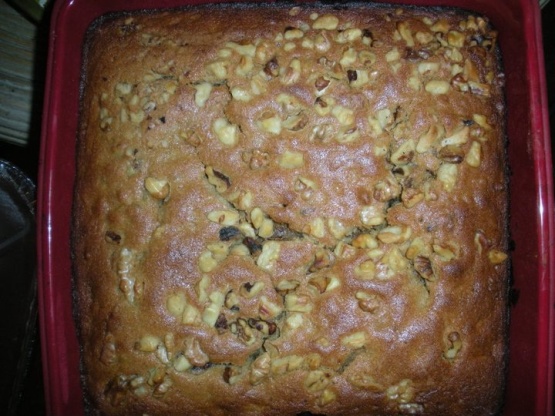 Something to serve during the holidays...

To heck with the holidays ~ These wonderful tasties would be great anytime! I used the very moist Medjool dates, & along with the walnuts, I had a great addition to our mobile home's cookie give-away tomorrow! I'll be making these again, for sure, & am even looking forward to them during NEXT winter's holidays! [Made & reviewed in New Kids on the Block tag]
1. Preheat oven to 350 °F.
2. Sift flour and baking powder 3 times. Set aside.
3. Combine molasses, honey and brandy.
4. Beat eggs and sugar at high speed until light and thick.
5. At medium speed, add butter.
6. At low speed, alternately add the brandy mixture and flour mixture.
7. Fold in walnuts and dates.
8. Bake in an aluminum foil lined pan at 350° for 15 minutes. Lower heat to 300° and bake for another 35 minutes or until done.
Note: The times for baking are times in the original recipe. I bake it for less time, resulting in a moister cake.