fawn512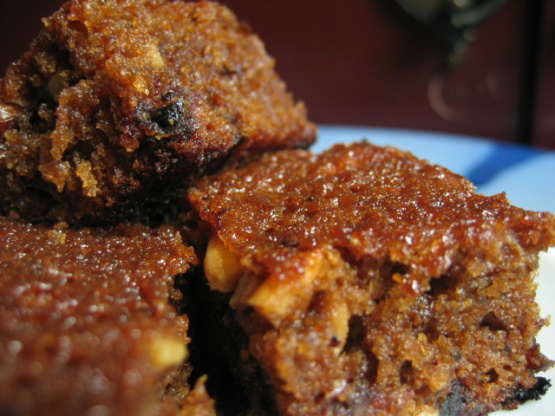 blonde brownie for christmas treats

I adapted this recipe to suit my tastes and to more closely resemble the food for the gods I ate at a cafe/bakery in Intramuros, Manila. I used a combination of cashews, walnuts, and pistachios in place of just walnuts and a combination of dates, golden raisins, dried cranberries, and dried mangoes in place of just dates. I also swapped honey for the corn syrup because I prefer the flavor of honey. The bars came out sweet, chewy, and moist with a buttery aroma and a lovely medley of colors and flavors that recalls another Filipino sweet, halo halo. Next time I will include half a teaspoon of cinnamon or pumpkin pie spice and soak the raisins in Filipino dark rum before adding them to the batter. Note that these bars come out very sticky (especially with my honey substitution), so I suggest lining the bottom of the pan with parchment paper.
Combine butter, sugar, corn syrup, vanilla and eggs. Mix well.
Sift dry ingredients, toss in nuts and dates until well coated.
Fold into wet ingredients.
NOTE: Freeze or chill the dates for easy chopping.
Bake 325ºF for 40-45 min in a 7x11 pan lined w/ foil.