Fontina Cheese and Red Sweet Pepper Stuffed Chicken Breasts
Kim127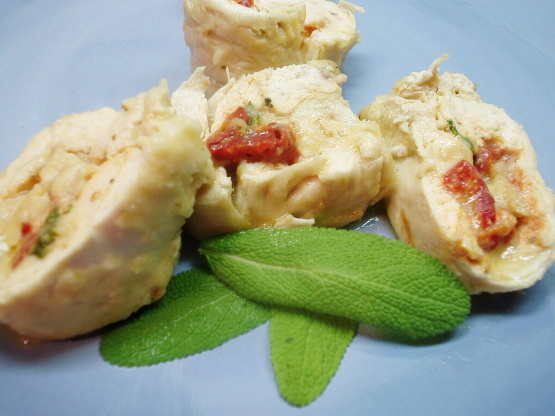 This is a wonderful recipe that came ouf of an old Better homes and gardens magazine. I say 2-4 servings because I can usually only eat 1/2 of one, however I do not eat large portions. For those who do, this will probably only serve 2.

Top Review by Latchy
This recipe went down really well. The only thing I did was add a clove of garlic to the wine. I do think the sage is an important part of the recipe. I actually sliced the rolls and served them warm at a smorgasbord lunch and they recieved good comments from all.
First you will need to rinse your chicken well, and then pat it dry.
Take each breast half, and place it, boned side up.
between two pieces of clear plastic wrap.
Working from the center to the edges, pound lightly with a meat mallet (make sure that you are using the flat side) until 1/4-inch thick.
Remove the plastic wrap after you are done pounding.
Sprinkle the chicken with freshly ground black pepper (to taste), and then layer the fontina, pepper halves, and sage evenly in the center of each breast.
Fold in the edges; roll up jelly-roll style, pressing the edges to seal, and then roll in flour.
In an 8 inch skillet, heat the olive oil over medium heat.
Cook the chicken about 5 minutes, turning to brown on all sides.
Remove from skillet.
In the same skillet, bring wine OR broth to a boil; reduce heat.
Simmer uncovered for approximately 2 minutes or until 1/4 cup of liquid remains.
Return chicken to the skillet, and cover and simmer for 10-12 minutes until chicken is no longer pink in the center.
To Serve, spoon juices over the chicken.
You can also slice the chicken into rounds for a beautiful presentation.