Fontina and Roasted Yellow Pepper Salad
Ms B.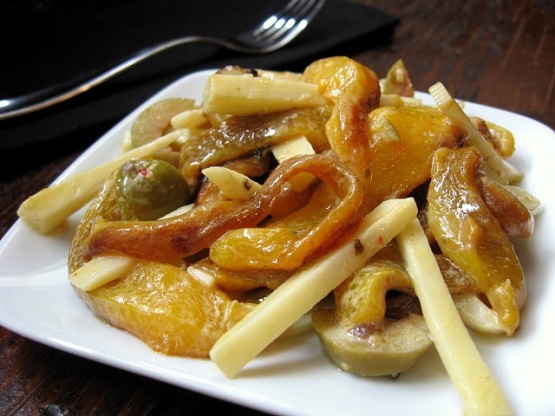 If you like peppers, this recipe is for you. The roasting brings out a lot of sweetness that contrasts well with the creamy cheese in the salad. I adopted this recipe after Mean Chef (IHHDRO) left the site.
Roast the whole peppers over a gas flame, turning until completely charred.
Put in a bowl, cover the bowl with plastic wrap, and let cool for at least 30 minutes.
In a small bowl, combine the olive oil, heavy cream, mustard, salt, and a couple of grinds of pepper.
Whisk together until emulsified.
Set aside.
Peel the skin from the peppers and discard the cores, seeds, and membranes.
Cut the peppers into 1/4-inch-wide strips.
In a large bowl, combine the peppers, cheese, olives, and cream mixture.
Toss together.
Serve at room temperature.