Fontina and bell pepper baked potato topping
Bergy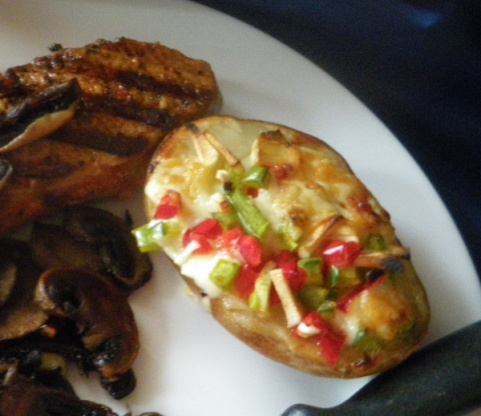 This recipe is from a great, long-gone magazine called Good Food. It is very filling and great if you are on a low-calorie diet.

Top Review by Bergy
This recipe is a great find. Tastes delicious and is quite a bit lower in calories than your regular bacon sour cream version. I do not micro wave so I baked the potato, cut it in half (serve 2 people) put the chopped pepper & garlic on top, added the cheese and returned it to the oven for 15 minutes. I used Light Havarti cheese - Lovely recipe enjoyed by both of us. Thanks for posting Allecia
Microwave oil, peppers, and garlic in a microwave-safe dish on high 1 minute.
Season with salt and pepper.
Sprinkle cheese over hot split baked potato and microwave 30 seconds.
Spoon pepper mixture over cheese.