Debbwl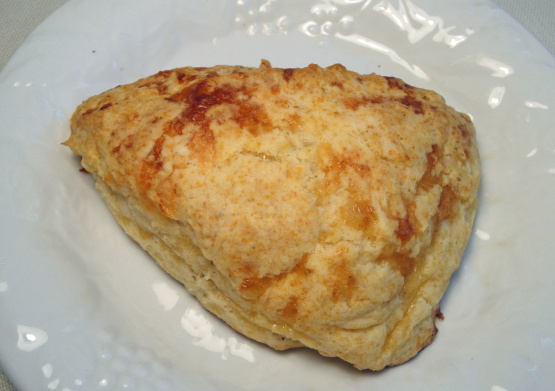 Adapted from the October 17, 2009 issue of Family Circle Magazine. Submitted by a reader, Shelly Fisher, who created it after having Swiss fondue in Europe. I don't think the garlic works, so I have made it optional.

I've been wanting to make these for more than a week now but they were definitely worth the wait! I was making French Onion Soup and as I don't care for Swiss cheese I always swap it out for Gruyere. I needed white wine for the soup and by happy coincidence this recipe uses Gewurztraminer so I was able to make both items sharing the ingredients. I cut the recipe in half as there are just two of us, other than that I made as directed with just a pinch of garlic powder and was delighted with the result. Tender, flaky and oh so yummy! Thanks for sharing this recipe - I'll be making it regularly!
Preheat oven to 425°F.
Place flour, baking powder, baking soda, nutmeg, salt and garlic powder in a large bowl and whisk to combine.
Cut in the cold butter until mixture is crumbly.
Add wine and cheese and stir until all dry ingredients are moistened.
Turn dough out onto a lightly floured surface.
Knead 5 to 6 times. Pat dough into an 8-inch circle.
Cut dough into 8 wedges.
Place wedges 1 inch apart on lightly greased baking sheet.
Brush tops with melted butter. Bake until golden brown, about 15 minutes. Serve warm or at room temperature.