ImPat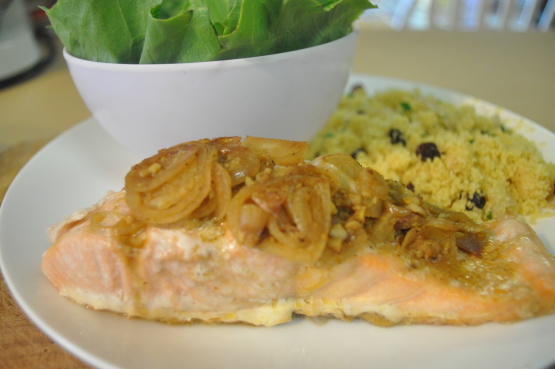 Before my divorce, I found myself the proud owner of lots of fish....he spent an awful lot of time fishing! So I had to find numerous ways of preparing it, so that I didn't have to eat the same thing over and over again! I can't say I miss the ex-husband, but I really do miss the fish! The sesame oil adds a nutty flavor....if you don't like sesame oil, use butter or margarine. I live on the gulf coast, so my fish of choice is red snapper, grouper, or amberjack...if I'm lucky triggerfish! A nice firm, white meat fish is preferably...nothing fishy tasting like mackerel!
1

medium onion, chopped

1

tablespoon sesame oil

1

teaspoon sesame oil

2

teaspoons curry powder

2

teaspoons gingerroot, peeled and minced

2

teaspoons garlic, minced

2

teaspoons soy sauce

2

lbs fish fillets, cut into 4 serving pieces
Heat your oven to 450 degrees.
Combine the first 6 ingredients in a bowl; stir well and set aside.
Cut 4 (12 x 9 inch) pieces of heavy duty foil. Fold them in half, and trim each piece into a larg heart shape. Place the foil on an ungreased baking sheet.
Place 1 fillet of fish on each piece of foil near the crease. Top evenly with the onion/sauce mixture. Fold over the remaining halves of foil hearts. Starting with the rounded edge of each heart, pleat and crimp the edges together to form a seal. Twist the end tightly to seal. Bake at 450 degrees for 20 minutes or until the fish flakes easily when tested with a fork.
To serve, remove from the foil and plate.