Foil Wrapped Chicken Tacos
loof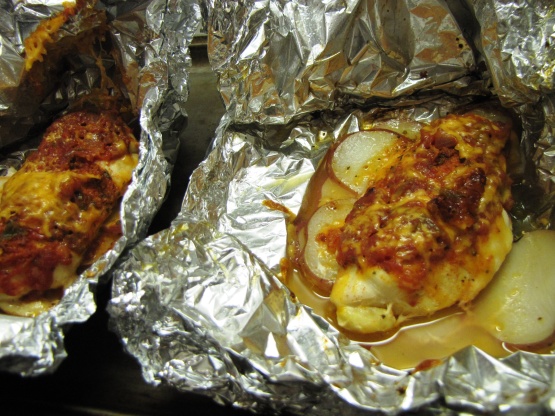 This is quick and easy and oh so yummy for those that want a different take on the usual tacos. I use taco sauce instead of salsa only per preference.
Top Review by vrvrvr
This was such a great recipe! We really enjoyed dinner tonight. I added salt and pepper to the chicken breasts (which were thin sliced) before the taco seasoning. Sour cream really put these over the top. A side dish of skillet corn and pinto beans with fresh red peppers accompanied this along with tortilla chips. Thanks CoffeeB!
4

teaspoons taco seasoning mix
1⁄2 lb red potatoes, peeled and thinly sliced
1⁄2 cup salsa or 1⁄2 cup taco sauce
3⁄4 cup shredded mexican cheese
1⁄4 cup sour cream
Preheat oven to 400 degrees.
Sprinkle chicken with seasoning mix.
Place 1/2 cup of the potatoes on center of each of 4 large sheets of heavyduty foil.
Make sure foil is sprayed with cooking spray to prevent sticking.
Top evenly with chicken, salsa, and cheese.
Bring foil sides up.
Double fold top and both ends to seal packet.
Leave room for heat circulation inside.
Place on a 10x15 inch baking sheet.
Bake 30-35 minutes or until chicken is 165 degrees.
Remove packets from oven and let stand 5 minutes.
Cut slits in foil to release steam before opening.
Serve with sour cream or any other toppings.