Marney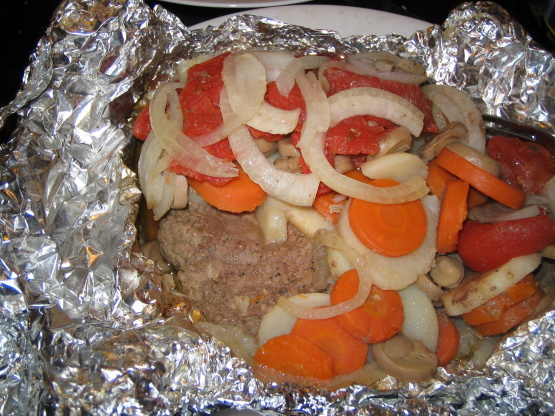 These are great to fix the night before going camping and grilling for dinner when you arrive so you can enjoy the whole day hiking or fishing.

We used to do these for Girl Scouts, no tomatos, but a few pats of butter instead. I make them occasionally for the family. I sometimes add pepper strips or zukes to it for more veg. A great creative and thrifty way to make a great meal.
Divide beef in half (if using) and form into flat patties. Season generously according to personal tastes. Place each patty in the center of a large square of heavy duty aluminum foil. Place a layer of potatoes on top of the meat followed by the carrots, mushrooms, onions and finish with the drained stewed tomatoes. Fold the foil around t he contents to form a tight packet. Cook on a hot grill, turning occasionally for half an hour to forty-five minutes.