Bergy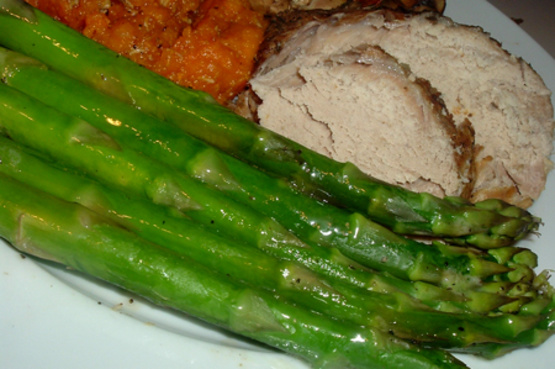 A very simple method of cooking asparagus, where they are wrapped in foil and baked, with nothing but a little butter and salt. So easy and yet so delicious!! My 2 1/2 year old daughter liked it too! I've only tried this once and I followed the recipe exactly as set out, but I'd like to try it again, perhaps putting a few sprigs of herbs in with it. You could also try herb butter instead of ordinary butter. You can omit the salt if you like. If you are making larger quantities you might need to make more than one "parcel". You could even wrap each portion separately and serve them in the foil wrappers - I ate mine straight out of the foil, and I think it made them even nicer as they're still steaming hot and in their cooking juices, and you can keep all that flavour and aroma trapped in the parcel until you're ready to eat it! Would make a really good starter served like this. Although I suppose it depends what kind of guests you've got - if they're used to silver platters they might not be so impressed with silver foil!! But I would be! :)
I was hesitant for I can never get asparagus to cook right. This turned out perfect and tender! very pleased!
Preheat oven to 180 C (360 F).
Prepare asparagus by snapping the lower "woody" part of the stem off (if it snaps cleanly you've got the right place; if it is difficult to break try higher up!), and peel the lower section if they're a bit old or thick.
Tear off a large enough piece of aluminium foil to wrap around the bunch of asparagus securely, and place asparagus in foil.
Dot with butter and sprinkle lightly with salt.
Wrap securely, and then wrap an extra strip of foil around the tip end to protect it.
Bake in oven for 25-35 mins, depending on the thickness and age of the asparagus (Mine were done in 30 and I'd say they were fairly average sized).
Try to wait until you're ready to serve before you unwrap them, or better still, serve them still wrapped in the foil.