Fogaiyya (Stew from Gaza City)
rpgaymer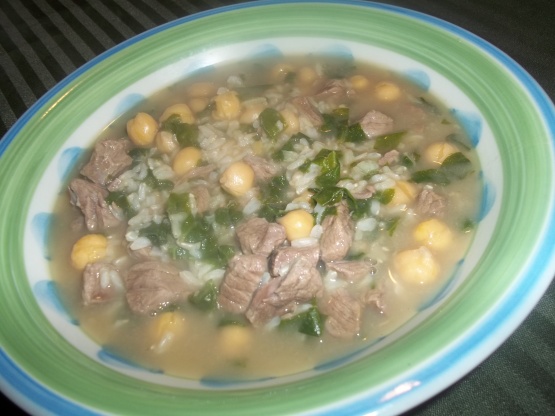 Posted for, Come with us to Palestine! A popular stew traditionally made in large batches on the occasion of Eid ul Fitr in Gaza's interior to be shared with family, neighbours and friends. Made with small chunks of beef or lamb, chard, rice and chickpeas and generously doused with lemon juice and fried garlic. Serving size is estimated. Recipe from Saudi Aramco World Magazine, November/December 2011.
This tasted much different that I expected, but I enjoyed it. The fried garlic, chard, and lemon juice are a perfect flavor combination, and the beef was almost melt-in-your mouth tender. I could not taste the nutmeg, allspice or cinnamon at all though... didn't know what purpose it served in the stew. I have to say, I'm definitely looking forward to trying more Palestinian food now.
Wash chard well, chop finely and set aside.
Place meat and water in a stockpot and bring to a boil, skimming any froth.
Lower heat to medium.
Tie spices in a piece of gauze or disposable tea filter and add with onions. Cover and let simmer on medium-low heat for 1-1/2 to 2 hours, or until meat is tender.
Stir in rice, 1-1/2 teaspoons of the salt and canned chickpeas. (If using dried chickpeas, add them to the meat halfway through cooking.) Cook until rice is soft, approximately 10 minutes.
Add chard by handfuls, stirring after each addition. Decrease heat to low.
Meanwhile, in a mortar and pestle, mash the garlic and remaining 1/2 teaspoons salt.
Fry the garlic in olive oil until lightly browned.
Add to stew and mix well.
Just before serving, stir in lemon juice.
Pour into bowls, garnish with thinly sliced lemon wedges, and serve with flatbread.