Focaccia & Rosemary are going steady!
COOKGIRl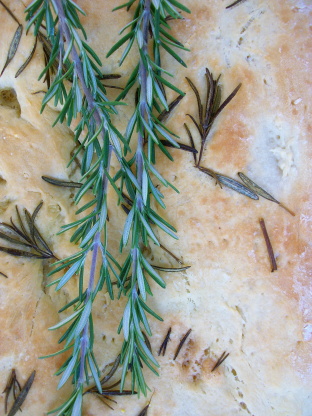 Home made focaccia is heaven. Add other toppings like sundried tomatoes, olives what ever but remember everything you add you also add calories!

I cheated, Bergy, and substituted Barbara's brand instant mashed potatoes and I also used an ABM to prep the dough. However, I would not recommend freezing the bread as I did. No fault of the recipe, but the texture of the bread is altered once it is frozen. Live and learn, right? Focaccia and Rosemary for ever! xoxoxoxo! Thank you!
Pour 1 cup of boiling water over 1 tbsp of rosemary and allow to cool to lukewarm- about 20 minutes.
Strain the water into a cup, discard the rosemary.
Add honey and stir.
Put the yeast into a large bowl and pour the lukewarm honey/rosemary water in and let stand until foamy about 10 minutes.
Stir salt and 1 tbsp of the olive oil into the yeast mixture.
Add mashed potatoes and enough flour to make a kneadable dough.
Flour your hands and the work surface and knead for 5-10 minutes until the dough is elastic and looks smooth (use your dough hook in your mixer but you don't get all that wonderful exercise!).
Spray a bowl with veggie oil and rotate the dough in the bowl.
Cover with plastic wrap, place in a warm place and allow to double in bulk (I usually put it in the oven with the light on) Takes apprx 45- 60 minutes.
Punch down and knead for at least an other minute.
Spray a 17 x 11" baking sheet Or somethong similar and place the dough on it and pat it into an 17 x 11" size, even it out so it is the same depth all over.
Brush with the 2 tsp of olive oil, sprinkle with the parmesan, onions and the remaining 1 tbsp of rosemary.
Cover loosely with plastic and allow to rise for about 30 minutes.
Heat oven to 400F and bake the focaccia for apprx 17 minutes or until it is golden and puffed.
Remove from oven cool slightly on wire rack.
Cut into 12 pieces and serve.