moxie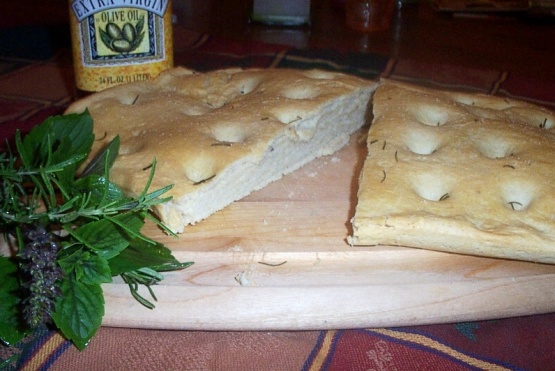 Basic Italian Foccacia. Delicious and simple. Prep time includes rising time.
Top Review by moxie
This is a great recipe with fabulous directions. Even though I had never made focaccia before, the conversational instructions made me feel like I had a friend in the kitchen. I added about 2 Tbsp. fresh rosemary to the dough, and sprinkled more fresh rosemary on top, which really gave it a nice flavor. I did need about 1/3 cup more warm water to get the right consistency, but like you said, no biggie. Thanks for sharing your recipe.
In a large bowl combine the flour, yeast and salt.
Using a wooden spoon, stir to mix well.
Add the 3 tbs olive oil.
While stirring, add the warm water until all of the flour absorbs and a dough forms.
You may need more or less of the water.
No biggie.
Gather dough into a ball and transfer to a floured work surface.
Knead until soft and elastic, not sticky.
Probably 10 min or so.
Place dough in a lightly oiled and warmed bowl, turning several times to coat it with oil.
Cover with plastic wrap and let rise in a warm place till doubles, around 45-75 minutes.
Position rack on lower part of oven and preheat to 400 degrees.
Brush a 10x15 baking pan with olive oil and set aside.
Punch down dough and transfer to foured surface.
Knead a few times and let rise for 5 minutes.
With palms form into a rectangle about 4x8 inches.
Transfer into pan.
Stretch and pat the dought to fit pan completely end evenly.
Cover with plastic wrap and let rise about 1 inch (30 min or so).
Using fingertips, make'dimple' indentations in the dough about 2 inches apart.
Brush surface with olive oil and sprinkle with sea salt.
Bake til golden brown, about 30-40 minutes.
Let cool for a few minutes, cut into squares and serve warm.
Before baking, you can also add roasted red peppers.
It's absolutely delicious.