Flying Biscuit Cafe: Creamy Dreamy White Cheddar Grits
I found this in the AJC newspaper.
Directions
In a saucepan, combine water, half-and-half, salt and white pepper and bring to a boil.
Slowly pour grits into boiling water while whisking the entire time. (Watch out for splattering; mixture is very hot.)
Reduce to low heat and continue to whisk often, until thick and completely smooth, about 10 minutes.
Add cheese and stir gently until cheese melts.
Whisk again to combine.
Turn heat off and allow grits to rest 5 minutes.
Add butter and stir until completely smooth, silky and shiny.
Most Helpful
Thanks for posting...I absolutely LOVE the Flying Biscuit Cafe and try to enjoy a meal there every time I visit Atlanta. These grits are just as fantastic as I remembered and really made my day. I was craving something homey and rich and creamy so this was a perfect dish. I can't believe nobody else has tried/reviewed as this is a keeper and WELL WORTH TRYING!!!!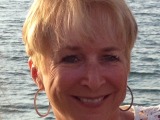 Tried this version and it was okay. In subsequent attempts we doubled the shredded white cheese and added a block of cream cheese and it is awesome! My go to recipe now for grits.