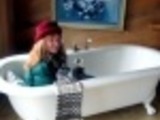 YOU DO NOT NEED VINEGAR PENNIES, ZAAR WOULD NOT LET ME PUBLISH THIS RECIPE BECAUSE PENNIES ARE'NT A FOOD SO I SAID VINEGAR PENNIES! I have no idea why or how this works but it does! Our garbage can is right outside of our kitchen door and when you went out the door you could usually count on a fly or two getting in the house. Since we've hung this by the door, there is not one fly! We've got them at different places now in the back yard where we spend a lot of time. There's two on our back porch and not one fly is on the porch. Theres one hanging from the big umbrella over our chairs and there are what I call the stupid "teenage flies" that will occasionally bug the heck out of you but nothing like it used to be. We're having company over Saturday for a backyard bbq so I'm anxious to see how it works for that, we'll hang one from the tree over the table. I don't know if its the reflection of the pennies in the water or what that makes it work. If you try this let me know how it works for you.
Directions
Fill the bag 1/2 way with water.
Put three pennies in each corner.
Close the bag and make a hole in the middle up past the ziplock.
Put string or fishing line in the hole and then hang it up.
It may take a day to notice the difference.
Reviews
Most Helpful
THANK YOU, RECIPE ADDICT! This really does work -- and WELL! I'm not even sure why, but lately I 've been having a little fly problem around my house (the ripe oranges and lemons in my backyard?). Anyway, it has been doing the trick -- and I couldn't be happier!

Hanging bags of water is often done here in the Houston area. I've never tried it myself, but there is an outdoor restaurant we go to that does it, and it seems to work. Now if it could just work for mosquitoes!

We attended a block party last summer and the hosts decided to try out this method but sadly, it made no difference....there were still tons of flies and we had to cover all the food! Too bad- would have been nice to not been so swarmed! Thanks for posting.