Fluffy White Bread (Bread Machine)
Mellie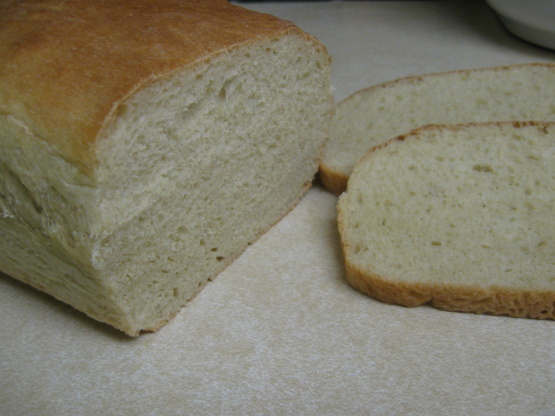 My husband loves Wonderbread, but we were looking for something a little healthier. After trial and error, I came up with this recipe, which is a variation of a recipe that I found on a flour bag. It's soft, fluffy, light and most importantly, much healthier than store-bought bread! Don't omit the gluten flour - that's what gives it its fluffiness! This can be done in either the bread machine or by hand. I do a combination of both - knead the dough and let rise in the bread machine, and then take it out, put it into a greased loaf pan and let rise the second time, then into the oven.

Today I picked this recipe to try because:<br/>1) it looked easy,<br/>2) it had nice clear instructions, description and note by the chef, and<br/>3) it had a five-star review.<br/>After making the bread and it turning out PERFECT on the first try, I noticed that there were just two people who wrote in about it! <br/>Well, I have to add a review so no one passes this by in favor of another recipe that many people have weighed in on!<br/>This recipe is deserving of all five stars... soooo easy, soooo yummy. <br/>Thanks for posting it, chef Mellie.
Proof yeast in water.
For bread machine - place all ingredients in order directed by your bread machine and process.
By hand - combine all and knead until elastic, about 10 minutes. Place in a greased bowl, cover and let rise for an hour. Punch down. Place in a greased loaf pan, cover and let rise another 20 minutes. Bake at 350 for 20 minutes or so.