dizzie1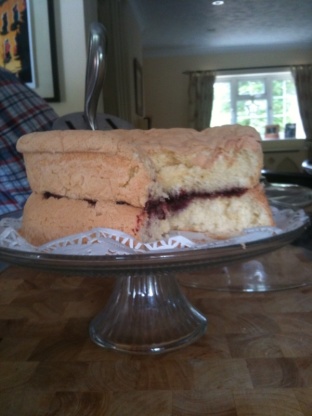 A very nice, light and fluffy cake that everyone will enjoy.

Top Review by Felius
This was easy to make (I used an electric mixer) and cooker perfectly. The only issue I had was that the mixture rose at least an inch above the sides of the tin, luckily still inside the baking paper though! The bottom of the sponge collapsed a bit under its own weight, but the top is delightfully fluffy. I'll definitely make this again, but next time I'll divide the mixture between two tins.
Heat oven to 160 degrees celsius.
Grease and line a 23 cm cake tin with baking paper and grease again and add some cornflour and caster sugar to coat bottom and sides of tin.
Whisk egg whites in a clean bowl until fluffy.
Add caster sugar gradually until dissolved.
Add egg yolks one by one.
Fold in sifted flour and baking powder.
Bake for 35-45 minutes depending on your oven.
Test after 35 minutes just in case.
To make filling, simply whip cream with sugar, cut sponge cake in half and fill with cream.
Place top layer of cake and spread with passionfruit icing.
To make icing, sift icing sugar and add passionfruit pulp to desired consistency.
If too runny put in more icing sugar and vice versa.