Fluffy Pumpkin Spice Pancakes from Scratch
diner524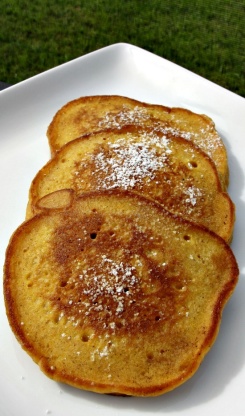 A friend gave me this recipe. Very fluffy, light and morish! Yoghurt makes this a little different, plus adds to the light texture.
Wonderful flavored pancakes and nice switch!!! I made 1/2 of the recipe and followed as written and they were nice and fluffy and moist. We tried them with some butter and a shake of powdered sugar, but not sweet enough for our tastes. We then tried sprinkling on a cinnamon/sugar mixture which went perfectly with these cakes. I also think maple syrup would be good too!!! Thanks for sharing the recipe. Made for ZWT8.
In a large bowl add the flour, spices and baking powder. Use a whisk to airate it and get lots of air inches.
In a seperate bowl, beat the eggs with a beater until foamy - about 3 minutes. Add the yoghurt, milk, pumpkin, vanilla, sugar, and brown sugar. Beat to mix well.
Pour the egg mix into the flour mix and gently fold to combine.
Spoon 1/4 of a cup on to a buttered hot pan and cook over a medium heat.
Let each side cook for about 3 minutes.