FLUFFY Peasant Bread (VEGAN and LOW FAT)
mdareing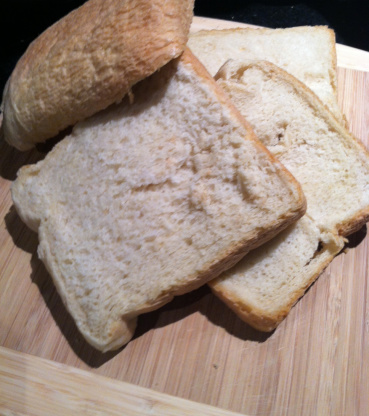 A very healthy, simple and delish bread.

This is a fantastic bread recipe which has worked really well for me when I have made it wih whey and when I stuck strictly to the recipe. It rises extremely well. Moreover it holds its shape and stores extremely well overnight and for a couple of days without going hard if accidentally left out. Great fluffy texture. All the good things about a plain white bread without the preservatives. This recipe has joined the very exclusive "Zaar recipe good enough to have been made twice" club and there are less than a dozen that can claim that fame.
Place the ingredients into the bread machine in the order listed or in the order suggested by manufacturer.
Select the basic cycle, and light crust.
For a crispier crust, select the FRENCH cycle, or turn the machine off after the first rising cycle, and start the cycle from start again.