Saturn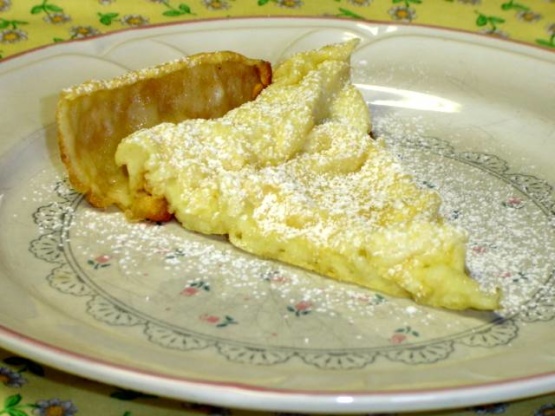 A friend of mine used to make this for me.

Top Review by Judi90
Mmmmmm, very nice! I loved it. However, my pan-cake seemed (to me)as if it had too much butter! I recoomend reducing the butter a little.I am not a fan of too much lemon so only drizzled a little bit on the cake. It was so yummy! Thanks for posting this very interesting recipe, I'll be making this again :) You could also try sprinkling with cheese instead of sugar for a more savory cake. PS- these are also called 'Dutch babies'
Preheat oven to 375.
On the stovetop, melt butter in large frying pan.
Meanwhile in a bowl, beat eggs with a fork until frothy.
In a separate bowl, stir together the flour and milk.
Dump the egg into the flour mixture and stir.
Pour batter into pan with bubbly butter, put pan into oven.
Bake for 15 minutes.
Will puff up, edges will curl and brown.
Take out of oven and drizzle with fresh squeezed lemon juice.
Dust with powdered sugar.