STati611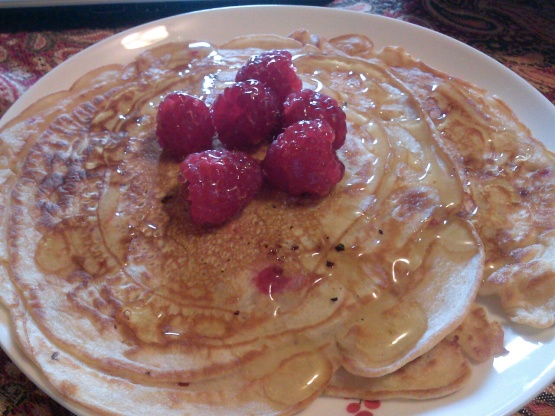 I started making kefir at home and sometimes end up with more than I want to use as a drink. I found this on the blog "Tammy's Recipes". The original recipe uses twice the amount of ingredients, but I reduced it to meet my needs. The original recipe was said to make 10 to 12 pancakes, but I got 11 using a 1/3 cup scoop (more or less full).

I love using kefir, but these were not fluffy. Suggestion either add some baking soda to neutralize the acid in the kefir and buttermilk OR add some fat in the form of melted butter or a bit of oil. The second modification would force you to alter the flour amount too.
In a medium bowl, whisk together the flour, baking powder and salt.
Break the egg into another bowl and lightly beat it. Then add the kefir, milk and vanilla extract and whisk them all together.
Add the wet ingredients to the dry, and whisk them together until combined. The batter should be a bit lumpy, but without any large pockets of flour.
Preheat a griddle or large skillet over medium heat. Lightly grease and spoon on the batter - I used a 1/3 cup scoop, more or less full.
When the surface has a fair number of bubbles, about 3-4 minutes, flip over and cook an additional 1 to 2 minutes.
Serve with your favorite toppings - I like a good jam, and maple syrup and fresh fruit are a natural, too.