Fluffy Herb Drop Biscuits
Debbwl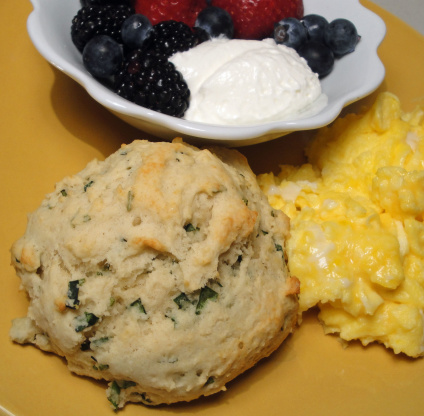 Easy, biscuits with that extra kick from the herbs, I love it when my garden herbs are at there best. Found this in my newest Taste of Home Magazine. Gosh I really like this magazine

Top Review by Debbwl
How did we love thee? These biscuits are light, fluffy, flavorful, easy and a great side to eggs, soup, stew or a main dish. The recipe cut down to serve three very nicely, did have to substitute olive oil for the canola oil as I was out and may have used just a smidgen more herbs. These are a new staple in our home, thanks so much for the yummy post.
Preheat oven to 450.
In large bowl, whisk flour, baking powder, salt and baking soda.
In another bowl, whisk buttermilk, oil, basil and rosemary.
Stir into dry ingredients just until moistened.
Drop by rounded tablespoonful 2 inches apart onto an ungreased baking sheet.
Bake 10-12 minutes or until light brown.
Serve warm.