Fluffy Eggless Sugar Cookies (Breathtaking Delicacies)
Ali R.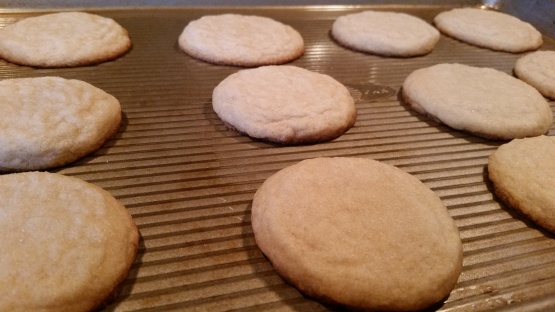 Being a vegetarian, it's always difficult to find recipes, especially for baking, that retain the texture and taste without eggs. I found a recipe for sugar cookies on recipezaar a few months ago, and every time I used it, I would tweak it just a little. Over time, it has developed into this awesome recipe which results in fluffy, light, sugar cookies - emphasis on the fluffy. (No one is a huge fan of flat, hard cookies,after all.) Enjoy!
There is a common social norm that eggs are crucial for cookie making. Let me set the scene for you. My flatmate and I had no eggs, disaster. We asked ourselves what we had done wrong to deserve such an atrocitie. As always we turned to our most reliable friend known to you as Google. We came across this life changing recipe, after continuous hesitation and multiple trust issues we decided to embark on this adventure. Life is too short and hunger was creeping in, overpowering our souls. We stared forlorn at the cookies in the oven, no eggs? How could this work we asked ourselves, tears in our eyes and stomachs rumbling. To our surprise, these cookies have become a landmark of what it means to be human with all of the joys associated with this beautiful life. God gives us the obstacles he knows we could overcome, hard eggless obstacles for that matter. These cookies enabled us to get a little taste of heaven, my grandma is doing great by the way, if only these cookies could pierce through the veil of death so she could have tried them too. Amen. Thank you jmann_07. My flatmate and I had no idea what an eggless existence would be like, but now those chicken babies can get lost.
Preheat oven to 350°F.
Combine butter and sugar in a bowl, and mix until it gets lighter and fluffier. (Either microwave the butter for about 45 seconds or make sure it's soft enough to whisk).
Add vanilla and milk to butter/sugar mixture. (You can be flexible with the amount of vanilla you use).
Combine salt, flour and baking powder in a separate bowl.
Combine the dry and wet ingredients, using either a spatula or your hands. (Dough should be a little bit sticky at this point).
Add extra flour as needed until dough becomes less sticky (I used about 3 T.) You don't want dough to be too tough or sticky.
Form 12 equal-sized balls, flatten to about 1/2 - 2/3 inch in thickness. Coat one side with sugar. (Lay about 1/8 Cup sugar on flat surface and lay each flattened ball of dough on it, pressing gently).
Bake for 8-10 minutes, until bottom is lightly golden.