Fluffy Eggless Sugar Cookies (Breathtaking Delicacies)
Ali R.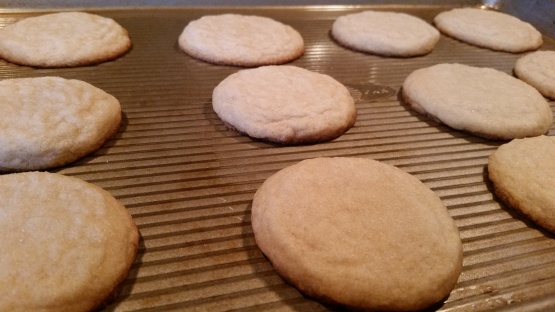 Being a vegetarian, it's always difficult to find recipes, especially for baking, that retain the texture and taste without eggs. I found a recipe for sugar cookies on recipezaar a few months ago, and every time I used it, I would tweak it just a little. Over time, it has developed into this awesome recipe which results in fluffy, light, sugar cookies - emphasis on the fluffy. (No one is a huge fan of flat, hard cookies,after all.) Enjoy!

My son has an egg allergy. Every year I watch him watch family eat Christmas cookies. This year I was determined to find and make eggless ones. These cookies were delicious, and he had a blast using the cookie cutters. The cookies can be crispy or soft depending on how long you leave them in. Great recipe. Thank you.
Preheat oven to 350°F.
Combine butter and sugar in a bowl, and mix until it gets lighter and fluffier. (Either microwave the butter for about 45 seconds or make sure it's soft enough to whisk).
Add vanilla and milk to butter/sugar mixture. (You can be flexible with the amount of vanilla you use).
Combine salt, flour and baking powder in a separate bowl.
Combine the dry and wet ingredients, using either a spatula or your hands. (Dough should be a little bit sticky at this point).
Add extra flour as needed until dough becomes less sticky (I used about 3 T.) You don't want dough to be too tough or sticky.
Form 12 equal-sized balls, flatten to about 1/2 - 2/3 inch in thickness. Coat one side with sugar. (Lay about 1/8 Cup sugar on flat surface and lay each flattened ball of dough on it, pressing gently).
Bake for 8-10 minutes, until bottom is lightly golden.