Jay3fer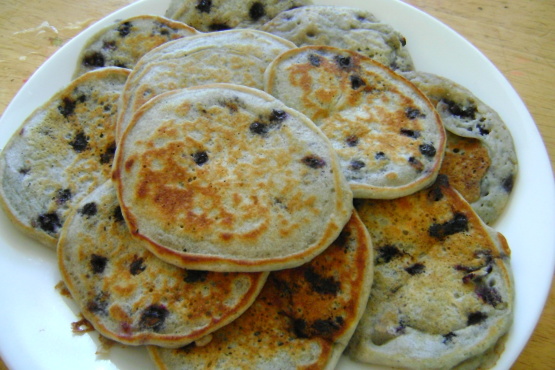 Recipe by L00k
I poached this recipe from cooks.com (it was submitted by Dawn Linke, so props to her). I'm mainly posting it here since this is the recipe site I use the most and I want to add it to my cookbook, and I was most happy with this recipe vs. other eggless pancake recipes I've tried, so I figured it was worth sharing. :)
Wow! I always figured the eggs a) held the pancakes together and b) made them fluffy. This extremely simple recipe disproves both of those... now I'm not sure why most recipes call for eggs! Like others, reached for this on a morning when we ran out of eggs. Found the basic batter a little bland - maybe it needs more sugar, or a touch of salt? Added blueberries, which I love in any pancakes. Thanks for a useful addition to the list of family "staples."
Combine dry ingredients and mix slightly.
Add milk, oil, water, and vanilla. Whisk together until just combined. Be careful not to over mix - it should still be slightly lumpy. Set aside to rest for a few minutes.
Heat a large skillet over medium-high heat until hot. While pan is heating, add butter. As soon as the butter is melted, add melted butter to pancake batter.
Return pan to stove and stir butter into batter.
When pan is hot, with a measuring cup or ladle, pour 1/4 cup of batter into the skillet for each pancake.
Cook until bubbles form on the surface. Carefully flip pancakes with turner/spatula and cook until golden brown.
Note: This recipe also works well with whole wheat flour. Chopped fruit, nuts or chocolate chips can be added to batter before cooking for a unique treat.