diner524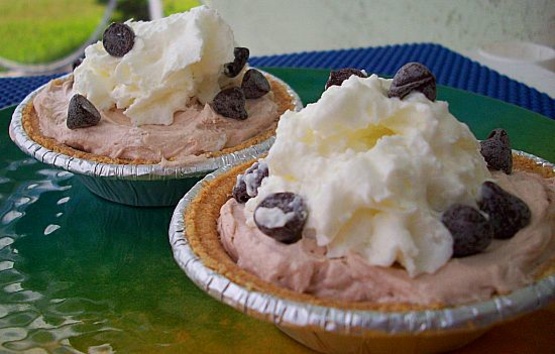 From CookingFor2 magazine: You can't go wrong with these cute tarts with their chocolaty whipped filling. They're so yummy that you'll want to split the third one between the two of you! "This recipe is as easy as it is delicious," notes Tina Wooten of Brandon, Florida. I must say I agree with Tina! These are awesome! My husband, who has never given ANYTHING a rating higher than four stars, gave these TWELVE stars. OUTSTANDING!

I made these tonight for my 7 year old and while they were good, they seemed to need more flavor. I used neufchatel cheese, but otherwise, kept the ingredients the same. I want to try making them again, but use chocolate milk powder instead of hot cocoa mix. I also considered cutting the whipped topping back to 1/2 cup. Will update when I try again. They are very cute! I ended up with enough filling for 4 as well. Thanks!
In a small mixing bowl, combine the cream cheese, sour cream, sugar and lemon juice until smooth.
Stir in cocoa mix.
Fold in whipped topping.
Spoon into tart shells.
Sprinkle with peanuts and chocolate chips (optional).
Cover and refrigerate until serving.