Mandy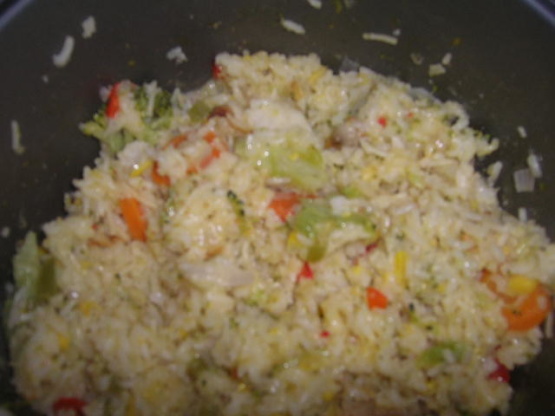 This is a Jamaican recipe from Caribbean Choice found while on ZWT III. I cheated a bit when I made this and just threw everything in my rice cooker just adding the cheese at the keep warm stage. This is a great side or you could even add some chicken and serve as a main. The recipe calls for Cock Soup Mix which is a spicy chicken soup mix so substitute accordingly, I just used some chicken noodle soup mix and added a bit of minced chilli to add spice.

This was great! I used brown rice. I loved the flavor, very tasty. I'll definitely make this again. Thank you!
Bring water to the boil, add rice and allow to steam for 15 to 20 minutes.
Heat oil in a frying pan and sauté onion, garlic and sweet pepper.
Stir in the steamed rice, whole kernel corn and mixed vegetables.
Add the cheese, Grace Cock Soup Mix and toss well.
Serve hot.